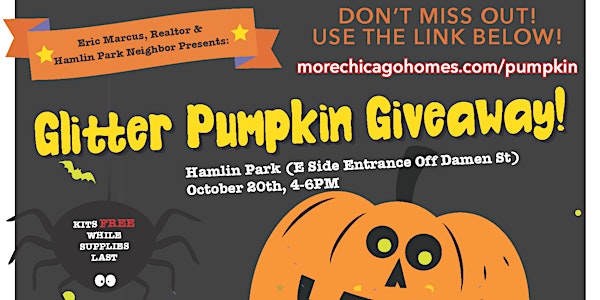 Glitter Pumpkin Giveaway at Hamlin Park!
Celebrate Halloween with your own Glitter Pumpkin! Reserve your Glitter Pumpkin Kit & pick up on October 20th at Hamlin Park!
When and where
Location
Hamlin Park 3035 N Hoyne Ave Chicago, IL 60618
About this event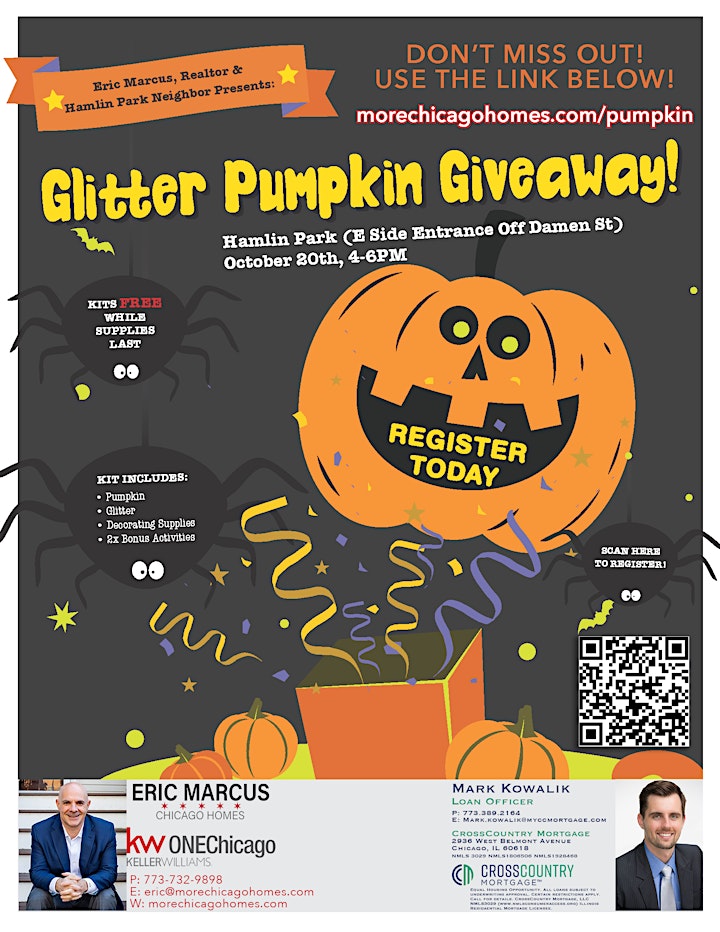 GLITTER PUMPKIN GIVEAWAY INCLUDES:
-1 Glitter Pumpkin Kit
-1 Pumpkin
-2 Bonus Halloween Activities
*MUST REGISTER TO SECURE YOUR PUMPKIN KIT*
- Glitter Pumpkin Giveaway -
at Hamlin Park (E Side Entrance Off Damen St)
October 20th - 4pm-6pm
Eric Marcus, Realtor & Hamlin Park Neighbor, is delighted to be partnering with Mark Kowalik to bring a Glitter Pumpkin Giveaway to the North Center Community! Embrace the spooky season and celebrate Halloween with your very own Glitter Pumpkin kit.
ABOUT ME
I was born in South Bend, Indiana where my family owned and operated a small business for over 50 years. Every member of my family has been licensed to practice real estate, and my dad owns a real estate company in Indiana. After graduating with honors from Indiana University in 1991, I earned my CPA and worked for a big six accounting firm in Chicago. Combining my experience and entrepreneurial spirit, I started my own successful accounting business that I ran for 3 years. Next, I embarked on a career as a soybean trader at the Chicago Board of Trade, followed by a successful run as a stock options market maker at the Chicago Board of Options Exchange.
I began my real estate career in 2003 as broker/owner of ESM Realty. My team has helped more than 500 clients buy and sell condominiums, townhouses, single family homes, multi-unit residential, and commercial properties. For 14 straight years, we were recognized by Chicago Association of Realtors as Top Producers. Our extensive marketing program includes premium placement on hundreds of websites, morechicagohomes.com and state of the art Facebook advertising.
My team works tirelessly to make each client feel like they are our only client! We strive for the highest level of performance every day so that we exceed your highest expectations. Our business is 75%+ referral-based and we want you to not only be our client but our biggest raving fan.
In December 2020, I brought my team to Keller Williams ONEChicago with branches in Lincoln Park, Lakeview and O'Hare.
ABOUT MY CO-SPONSOR, MARK KOWALIK
Mark Kowalik is a Loan Officer with Cross Country Mortgage. Whatever your situation may be, Mark offers a wide range of home financing programs, from FHA and VA to conventional and jumbo.
Communication is key, and sharing information is as important as listening. Mark will make sure you know what's happening with your mortgage as it progresses and will be available to answer your questions. In addition, Mark uses cutting-edge, user-friendly mortgage technology to make your loan process smooth, from application to closing. Whether you are buying, refinancing, or renovating, Mark is ready to give you the outstanding home loan experience you deserve.