GIVE US 30 DAYS! ❤️ LOVE Your Listing Broker! ❤️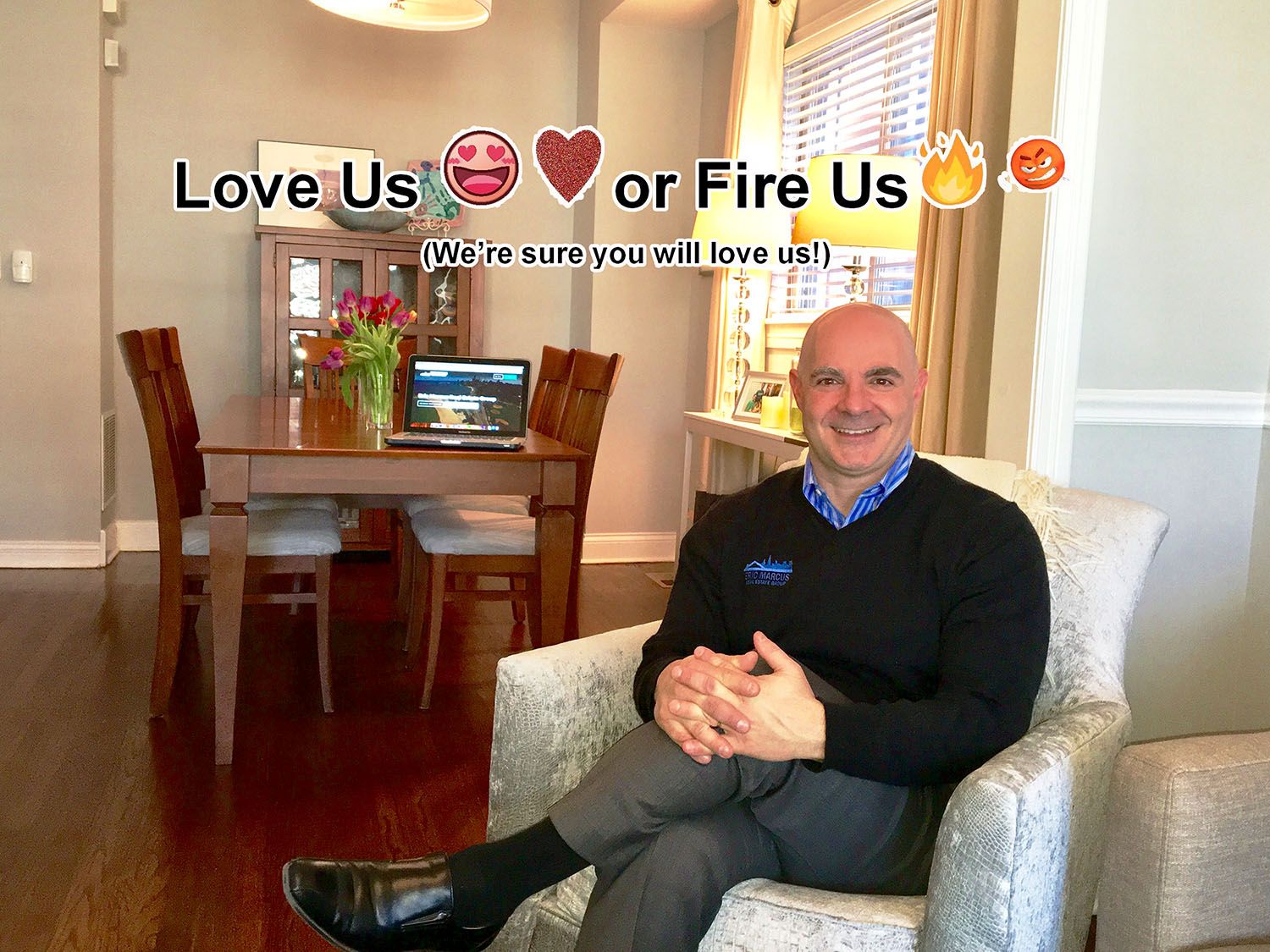 Here in Chicago many firms will lock you in to a listing agreement for 6-12 months or longer. With Eric Marcus Real Estate Group you have the option to FIRE US anytime after 30 days if you are not happy. There is no cost or obligation to cancel our agreement. We are that confident you will love working with us!
Your Listing Will Stand Out with Eric Marcus Real Estate Group!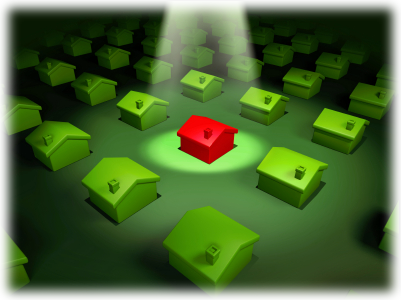 Why? Because Eric Marcus Real Estate Group uses best in class resources, state of the art marketing techniques that work and a consistent, tried and true approach to selling your home based on a mastery of the fundamentals of marketing: The 4 P's
1. Product -- Your house is the prime product and we work together to make it stand out among the competition
2. Price -- We'll help you analyze the comparable recent sales and inventory trends. We compare each component of the value to accurately price your home to sell well in today's market.
3. Promotions- This is where the magic happens. The more ready, willing and able buyers that see your home the faster it will sell and the more it will sell for. We use every effective marketing channel to make sure we cast a broad net of engaging information so that prospects can see your home everywhere!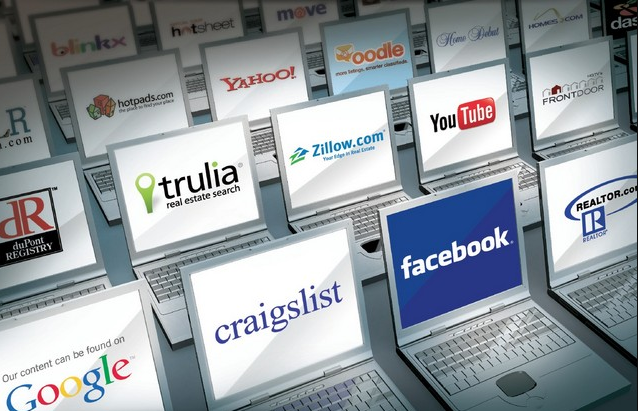 Today's technology makes it easier than ever for consumers to view and research listings on the market. Prospects can can click a button, and find homes on Zillow, Trulia, and countless other sites. Seller's can speculate or advertise without even intending to sell on many real estate portals--and with no accountability for accuracy.
Unfortunately, that can make it hard for buyers to distinguish the value of one listing over another. After a certain point, they all tend to look the same and buyers can get frustrated about the actual availability and value of listings.
We make sure our listings stand out from the crowd, by raising the bar when it comes to advertising our listings.
We also create a custom, robust and engaging web page for every one of our listings. This allows us to promote the unique and compelling facts about our homes in a format that we control to highlight and accentuate the positives to present our listings most effectively.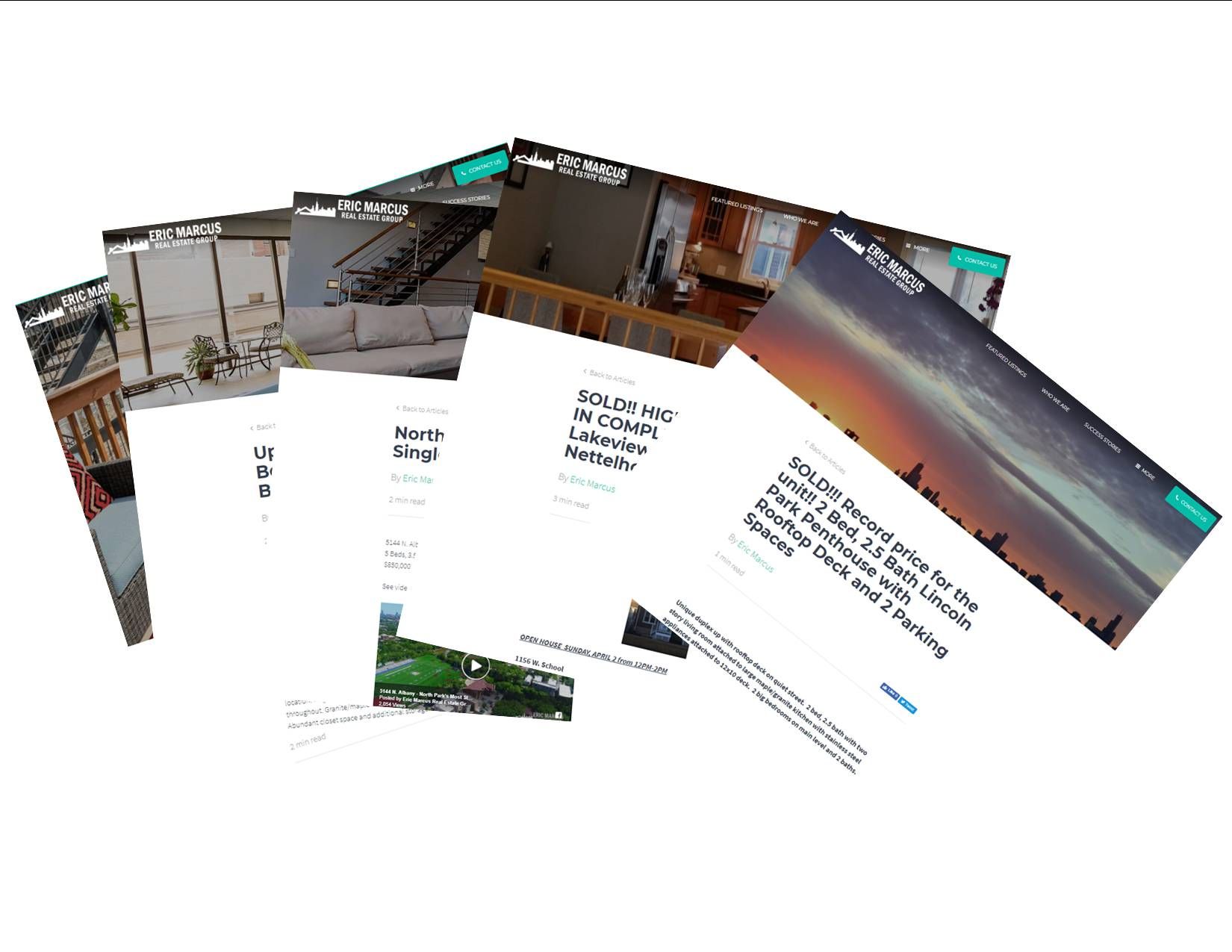 We also heavily promote our listings on Facebook. More about that below.
4. Prospecting- Many agents use their own three P's - Put it on the MLS, Place a sign in the yard and Pray it sells. We actively add a 4th P - Prospecting. 5 days a week we are proactively calling potential buyers and sellers (who often become buyers) letting them know about about the properties we are marketing. This gives additional exposure to people who might not otherwise be looking on traditional marketing avenues.
Professional Photos and Interactive Floor Plans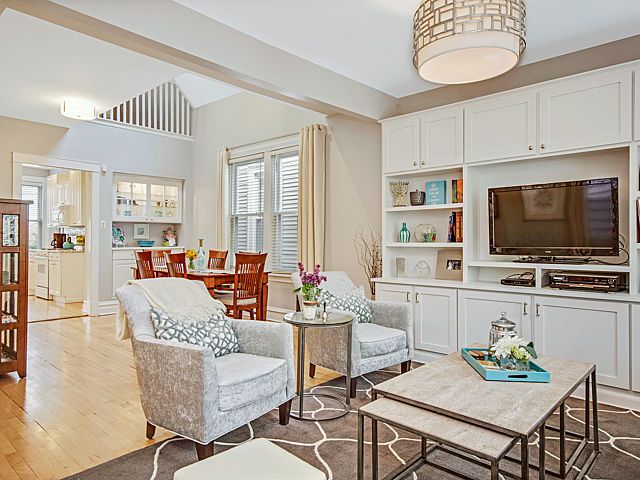 Buyers are impressed by quality photographs. We partner with Vis-Homes to provide professional photography on all of our listings. The first showing of your home (and often the 4th, 5th, and more) take place online. That is why it is so important that the pictures are perfect!
Buyers also like the ability to see the interactive floor plan so they can place their furniture. Its amazing how many buyers will search for a house that fits their $800 dining room table. I want them to be able to see that it will fit, if it will! The floor plan can also eliminate unnecessary showings for people who know they need 3 bedrooms upstairs when the listing only has 2 upstairs and 1 in the basement. This will end up saving you time from preparing your home for a buyer that wants a different set up than your home has.
Our Fully Integrated Website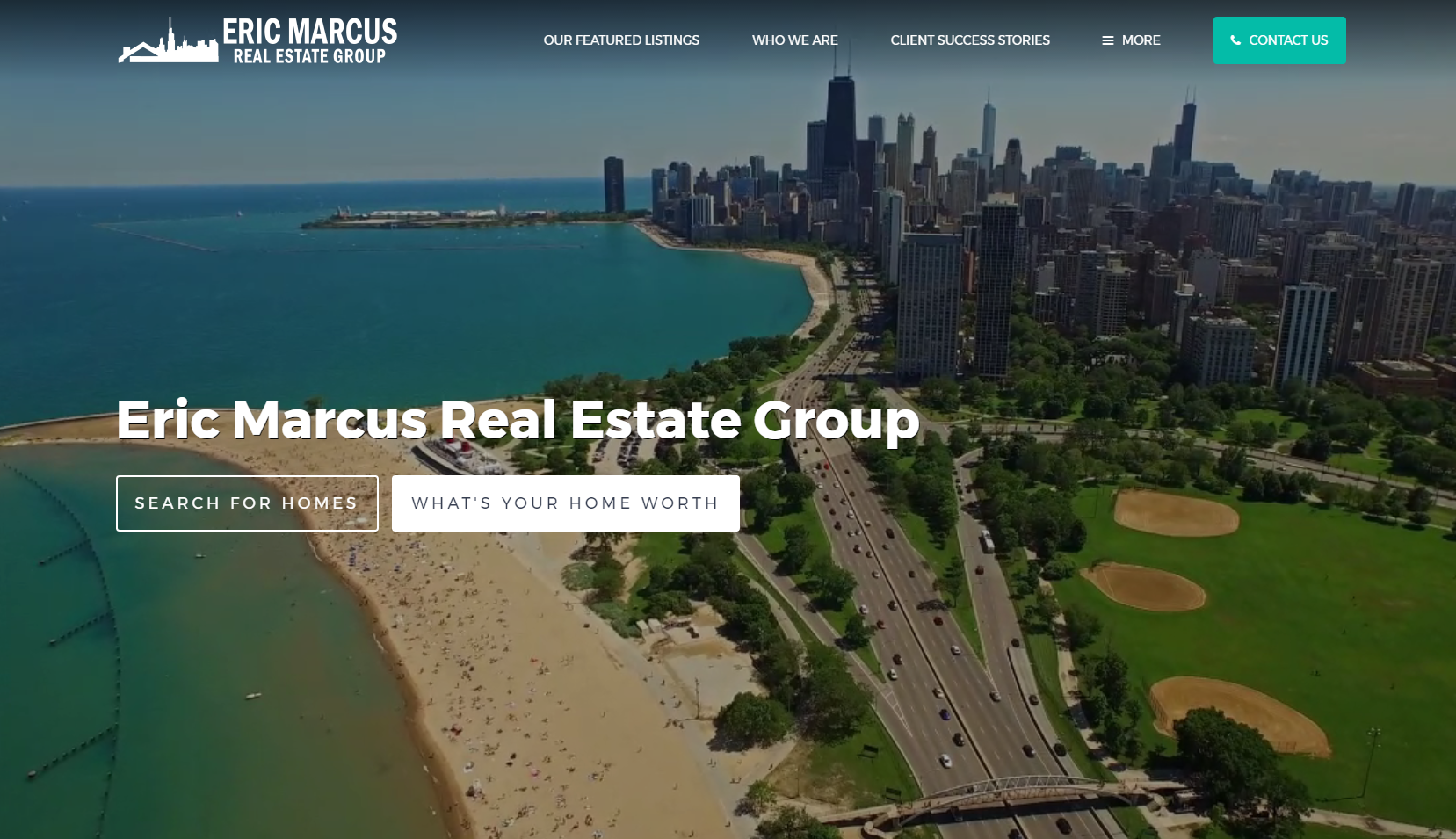 We control the presentation of your listing on our website. In addition to our featured property posting that feeds from the MLS, we are able to create a blog post which gives us the opportunity to tell the story beyond what can be seen on the MLS.
Facebook Marketing
For many people Facebook has replaced the newspaper and TV as their #1 source for news and information. Are you someone that checks Facebook first thing in the morning, throughout the day and then before bed? Even if you aren't there are millions of people who are doing just that every single day.
We are able to target those people by zip code, geographic area, and even by interests. Our sponsored posts (ads) reach tens of thousands of geographically targeted buyers every time we run them. A few hundred $$ spent on Facebook can generate us hundreds of leads that send us their information. If you clicked on our ad, you may be getting an email from us very soon! We don't get that type of response and information from any of our other marketing sources. There is a good reason that Facebook has quickly become one of the largest companies in the world!
In a recent month, our ads were seen over 28,000 times. 6,500+ clicked on the pictures and we received over 450 leads. 99% of agents don't have the technology, patience or know-how to do it. But we do! We understand buyers are not going to Facebook to buy a home in Chicago but we know that most people buying homes in Chicago are on Facebook! They self select by clicking on our real estate posts of our featured homes.
Read Actual Client Reviews
We gain great pleasure by delivering a high level of service whether you are selling a $250,000 1-bedroom condo in Lakeview or a $3,000,000 custom single family home in Lincoln Park. . These are all reviews posted on Zillow, Facebook and Yelp from actual clients.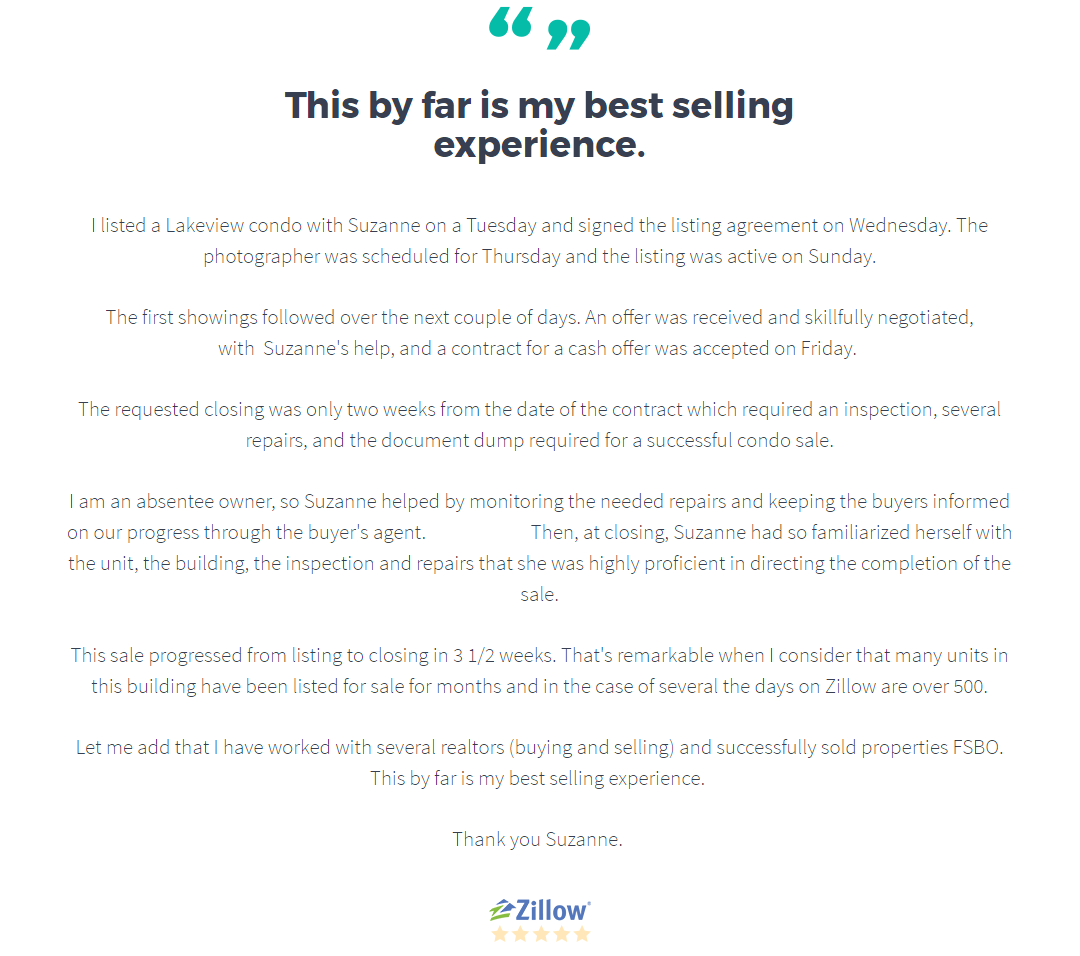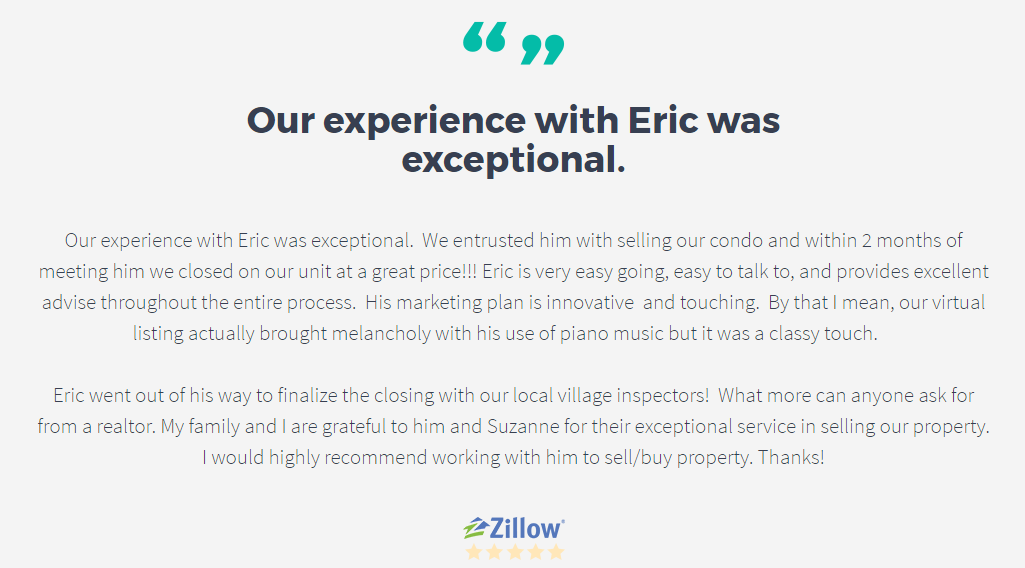 Sell Your Home!
Are you ready to Love Your Listing Agent?
Call: 773-732-9898